<![if !vml]>

<![endif]>
<![if !vml]>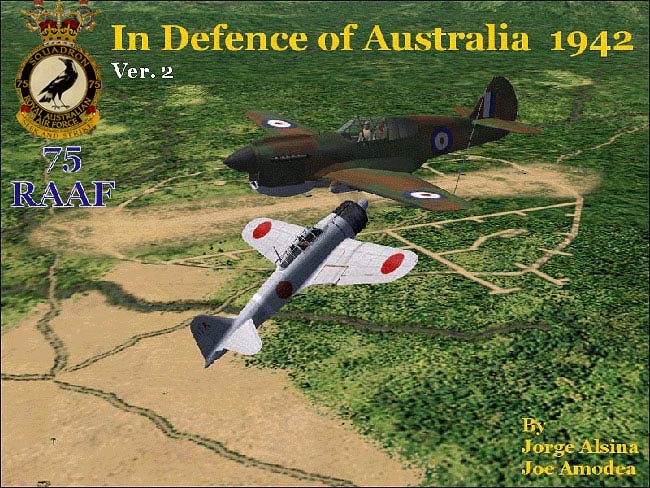 <![endif]>
<![if !vml]>

<![endif]>
Release Version 2.0
This package contains the following items:
A 14 Mission Historically Researched RAAF 75 squadron Campaign
A 14 mission reversed Campaign played from the Japanese side
Complete with Custom Briefing Screens and Original Documentation
And . . .
Three improved aircraft:
Kittyhawk Ia Schuftie
Kittyhawk Ia RAAF
G3M2 "Nell" AI version
In addition . . .
A new custom CFS2 P-40E Panel
Custom P-40E Gauge Cluster
P-40E fuel tank weapon library
Scenery files with nine Multiplayer-ready airfields for Port Moresby and Buna areas
Table of Contents
Background
The Early History of 75 Squadron RAAF
Historical Background on the Southwest Pacific Theater – Papua and New Guinea Territories
The Map – where the action takes place
The Kittyhawk Ia – P-40E
Schuftie and her Sister – The Virtual Model
The P-40E/Kittyhawk Flight Dynamics
Flying the P-40E in "Free Flight"
The G3M2 Nell
The Campaign and the Missions
The Missions and the Campaign screens
The Scenery
Port Moresby and Dobodura Airfields
Other Things You Should Know
"A Lot to Fight for" – a few words about the memoirs of John F. Jackson
List of known issues remaining
A few important words about CFS2 settings . . .
Installation Notes or "What have we done to your computer?
Is it possible to use the work here as a basis for any new work?
A Very Special Acknowledgement!
The Early History of the RAAF 75 Squadron
75 Squadron was for Australia, together with the small garrison at Port Moresby, virtually the only forces in theater to prevent the Japanese advancement in New Guinea. It was suspected at the time and later confirmed, that the Japanese had planned to stage an invasion of the Australian homeland from an anticipated stronghold in New Guinea.
The history of 75 Squadron RAAF is one of magnificence, bravery and honor, with many pilots risking - and sometimes sacrificing their lives for their country. They flew with a numerical disadvantage against first-rate enemy pilots as those in the Tainan wing and with the best Japanese aces as Sakai, Ishizawa, Ota, Honda, among many others.
Shortly after some US P-40E were available in Australia, in February 1942, 75 Squadron was formed in nine days at Townsville, Australia, furnished with some experienced pilots taken from the North Africa front, as well as newly trained pilots. On March 19th, Squadron Leader John F. Jackson was appointed as the Commanding Officer of 75.
On March 19th, 17 Kittyhawks left Townsville, via the RAAF base at Horn Island and then in a second flight up to Seven-Mile airfield in Port Moresby. The Australian garrison detached there, gave them a heated reception as the garrison attacked the first oncoming fighters with flak. Three fighters were damaged, fortunately with no injuries to their pilots. One hour after landing, a general alarm was sounded and the daily Japanese reconnaissance aircraft was intercepted and shot down. After this, the contrite Garrison morale was greatly improved.
The Squadron experienced intensive fighting from that day through May 3rd, when the extreme attrition on their equipment and the fatigue of the survivor pilots called for a well deserved rest in a rear area. At that time US 8th PG was taking their turn at combat in New Guinea.
75 Squadron ended its Port Moresby campaign just at the beginning of the Battle of the Coral Sea. They had opposed seemingly continual hordes of Japanese bombers and fighters that were in fact preliminary softening actions prior to the planned Port Moresby invasion.
After Port Moresby, 75 was deployed for a deserved rest and rebuilding to a rear area near Townsville, Australia only to return to New Guinea to fight again in their aging Kittyhawks at Milne Bay in August of 1942.  The next year, they were back to Milne Bay with improved P-40N or Kittyhawk IV aircraft where they would support an offensive by Australian ground forces and participate in the repulse of the landing there by the Japanese.
In order to enrich your knowledge about those historic facts, you may read the "overview" and "background" text screens in each mission, as well as pursuing the links below:
Warbirds Australia: (where the idea of this campaign was born).
Browse in the menu for the General Squadron Information  - 75 Sqn. RAAF
Browse also to the RAAF Aircraft section for information on the P-40 and Schuftie P-40E colors.
There you will also see a color plate of "Cleopatra" with its distinctive white tail, one of the Kittyhawk IVs that participated in the Milne Bay action.
Today's 75 site:
This link will take you to a great P-40 site:
Here is a great site for the entire Hawk family with quite a few additional good links listed.  It is part of RAM an on-line Russian Aviation Museum:
and once there; go here:
"Click" on the scrolled menu items on the left.
Here is a site including information furnished by the Curtiss-Wright Historical Association.  There are fine detailed photos of the restoration of a Tomahawk.
Warbirds.org - Virtual Air Museum
And for those of you who wish to study color schemes used by the RCAF also as adopted from the RAF:
And for those of you who wish to view some very considerable research on the RNZAF actions in the theater, including photographs of the planes flown and a biography of leading Commonwealth ace in theater, Geoffrey Fisken:
Peter's Royal New Zealand Air Force Pacific WW II Home Page
The following link is not to be missed!  
The site is called Australia@War and it has been carefully and extensively crafted by a fellow so modest that one must search very hard to find his name, though he shows us pictures of his back yard and teaches us all we need to know about Aussie (Ozzie) slang!  He is Peter Dunn and he is into genealogy as well as World War II history.
Here you will find many B&W photos taken during the period.  There is a section on 75 Squadron that originally inspired the WARBIRDS 75 Sqn. Site to take on the identity of 75.  There is copious information on virtually all the RAAF fighter and bomber squadrons that participated in WW II.  There are pictures of many locations where aerodromes were located and there are some very poignant stories of courage and tragedy.  1,336 military aircraft crashes in Australian territory are documented as well as every known attack on the Australian mainland (of which there were many) by the Japanese air forces during the war.
As told in one such story, a 23 year-old 75 Sqn. pilot named Flying Officer Montague David Ellerton (568), was killed on 27th or 28th April 1942, when his wing tip hit a sand dune and his Kittyhawk flipped over while attempting to land on a beach about 50 kms north west of Cooktown.  This brave young fellow was attempting to land on the beach to rescue a downed USAAF Airacobra pilot named Lt. William McGovern.
This story was especially tragic as the U.S. pilot had to watch helplessly while the tide came in a drowned young Ellerton who was still alive and trapped below the high-water line in his flipped Kittyhawk A29-69.
In January of 2001, Ellerton's nephew stumbled upon the above website and read the account of the loss of his uncle.  Of course he was familiar with the story, but not the location of his uncle's death.  As it happens, he was struck by an eerie coincidence.  Quite by accident, he had visited the very spot in a 4-wheel drive vehicle in 1999 and came upon the wreck of the very Kittyhawk on the beach, not knowing at the time that this was the plane flown by his late uncle David!
He has since returned to the site and salvaged what he could of the aircraft for posterity.
There are quite a number of image captures of maps used during this period by the RAAF.
Don't miss this site!
Historical Background on the Southwest Pacific Theater – Papua and New Guinea Territories
The following narrative is included to provide a deeper context for the campaign and to give the reader a glimpse at the events that occurred after the action of this campaign.  It is not meant to be exhaustive.  An historian or avid history buff may be offended by the sins of omission.  However, the authors do provide a bibliography and we certainly mean to encourage you to go explore this subject in greater depth.
The action of the 75 defense of Port Moresby really marked the beginning of a long struggle between the Allied forces newly organized under the command of General Douglas MacArthur – fresh from his then-recent defeat in the Philippines – and the firmly entrenched and dominant forces of the Imperial Japanese Navy and Army based not only in New Britain, but also along the northern and western stretches of New Guinea itself.  Eventually, there were strongholds not only at Lae but also at Salamaua, Buna, and Hollandia and later at Wewak.
Ultimately, it took more than two years for the Allies to dislodge the Japanese and the common enemy for both sides was the jungle itself.  In the fighting that ensued, the terrain dictated that much of the fighting was small arms combat supported by air actions.  The U.S. army experienced its highest rate of casualty due to neuropsychiatric disorders, nearly 44 men per 1,000 under arms.  In New Guinea, ambush and sudden death were commonplace.  In the Southwest Pacific, small arms claimed 32% of Americans killed in action versus 17% by artillery fire.  This is in contrast with the numbers for the war as a whole where overall rates were 19.7% for small arms fire and 57.5% for artillery fire.
The Allied air forces were under the command of Major General George C. Kenney and the Fifth Air Force.  The struggle for control of the air resulted in the loss of 1,374 Allied aircraft between September of 1942 (after the action of our subject project) and September of 1944.  During this time period, approximately 4,100 American airmen and more than 2,000 Australian airmen were either killed or listed as missing in action.  There were over 24,000 battle casualties and over 70% of these (17,107) were Australian.  Malaria casualties alone numbered 70,000.
During this same period, over 110,000 Japanese soldiers and airmen lost their lives to fighting, disease and starvation.
So why such a big disparity in the numbers?
It is the conclusion reached by author Edward J. Drea, that the Allies and especially General MacArthur and General Kenney, General Walter Krueger and Admiral Arthur Carpender and Admiral Daniel Barbey collectively realized a fundamental truth.  The terrain of New Guinea was so hostile to ground warfare that a new strategy had to be discovered.  As it turns out, MacArthur developed a risky but effective tactic of bypass.  His subordinates developed and honed the rapid amphibious assault, but not frontally - rather in a series of flanking actions.
Of course it helped that the Japanese left a trunk behind with their ciphers available to the Allies and many of the strengths and weaknesses of the Japanese forces were known in advance!
And then the Japanese upper command hung onto a stubborn belief that a ground war could be fought in New Guinea.  There were a number of ill-conceived campaigns to attack allied positions by cutting their way through the unforgiving terrain.  They nearly succeeded a couple of times.  But "nearly" wasn't good enough.  In one action – in an attack at the Australian base at Wau, they were turned around by the last minute arrival of C-47 transports with men jumping out weapons blazing while the props were still turning!
Many Japanese troops were lost in the jungle to disease and starvation after their retreat from coastal positions having been driven out by Allied amphibious action and close air support.
Most of the foregoing was learned by reading:
War in the Pacific Pearl Harbor to Tokyo Bay, Edited by Bernard C. Nalty; Technical Advisor Russ A. Pritchard
From the above source, on the topography:
"The high mountain peaks and deep gorges, covered with thick jungle vegetation make passage overland by large units nearly impossible. The lee of the mountainous spine around the Port Moresby area is wet from January to April, but otherwise dry. On the windward side, scene of most of the ground fighting from 1942-1945 rainfall falls as high as 150. 200 or even 300 inches per year. As one veteran recalled, "It rains daily for nine months, and then the monsoon starts.""
The enemy included malaria, dengue fever, dysentery and a host of other diseases. "Men ate their rations with one hand using the other to flick away clouds of black flies that swarmed to the food."
Eastern New Guinea, New Britain New Ireland and the surrounding archipelago were all Australian protectorates, the western half of New Guinea being a Dutch protectorate.
It was in January of 1942 that the Japanese kicked off their plan of conquest by capturing Rabaul in New Britain. They killed about 300 of the Australian defenders and imprisoned the balance of the original 1,200 in this nominal force under cruel conditions. At this time, the Japanese put into affect the "FS" operation aimed at isolating Australia by capturing Port Moresby and establishing forward bases in the Solomons. The earliest part of this operation was to set up a base at Lae and Salamaua.
There was an unopposed 3,000 man amphibious landing at Lae on March 8th, the Australians having seen this coming and having withdrawn to Wau in the Bulolo valley.
100 aircraft from Lexington and Yorktown caught the Japanese by surprise and sunk 11 transports and killed or wounded about 400.
At this time, however, the Allies had no significant troop concentrations in this area and very little in the way of equipment as well. What was there was spread very thin.
The Australians had just recalled their 6th and 7th Divisions from North Africa and the U.S. sent the 41st and 32nd Infantry to Australia.
This month of March was the same month that MacArthur fled the Philippines, vowing to return.  This was the beginning of the period of the campaign we call: "In Defence of Australia – 1942."
The Map – where the action takes place!
<![if !vml]>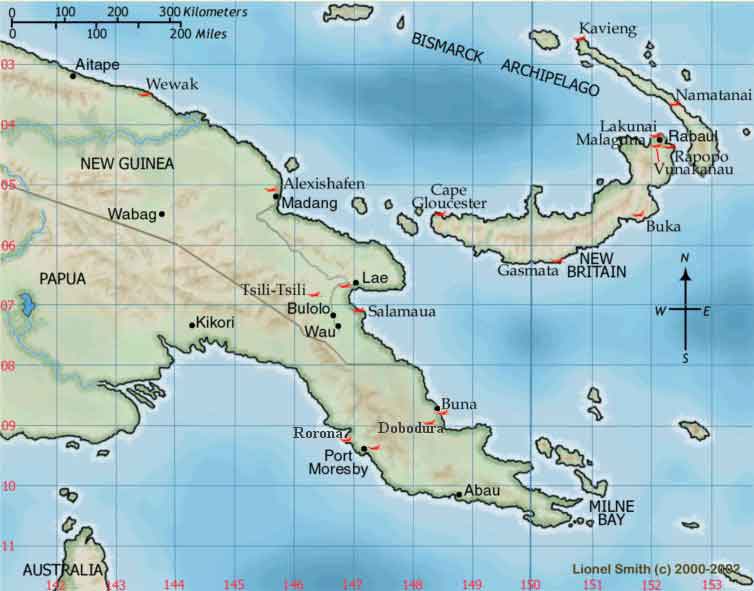 <![endif]>
The map above has been created and furnished by Lionel Smith - a.k.a CH_CptSmithers and is copyright protected to him.  A high-resolution version may be made available at the Chaps Squadron:  www.chapshq.com, in the maps section.  You will note that many of the default CFS2 airfields have been added.
<![if !vml]>

<![endif]>
Schuftie and her Sister – The Virtual Model
Some reflections by Joe Amodea
Comments added April of 2002 on the occasion of the release of version two.
It's hard to know really where to begin?
I realize up front, that if I were to relate the entire tale about the process of how I learned to build Schuftie and her sister I might be mistaken for your Auntie Gertie!
We all know an Auntie Gertie.  Auntie Gertie is that family member who gathers the family around for a visit or a reunion.  Once presented with a respectful, captive audience, she begins to show you slides or videos of her recent trip to Disneyworld, less interesting because she was unaccompanied by small children.  Her monotone is hard to listen-to and you know you want to leave. You are polite and the weather is ominous, but you look outside longingly at you car anyway.  Only then you realize the left front tire went flat after you arrived and you are stuck there for the duration.
I don't have a captive audience so, mercifully, I will present a few highlights and low points of the creation process and I will share a few observations and recommendations arising out of my experience from the prospective of a modeler who has finally completed the project after some trial and tribulation.
Hopefully, I will save a little grief for the would be first-time modeler reading this paper and I'll elicit a knowing chuckle or two from the more experienced.
Let's start near the endpoint of the process.
Prognosis is still very Good!
Since the release of IDoA-42, there have been a lot of very fine models developed for CFS2 and new tools as well.  As I write this paragraph, we are about six months away from the introduction of CFS3 and the return to mid and late-war Europe.
To be sure, there remain many issues to be resolved, but the most revolutionary recent development for the virtual modeler has been the introduction of the multi-resolution merged MDL or LOD (level of detail) model feature of Abacus Flight Simulator Design Studio Pro.
Of course, now we have gmax for FS2002 and for CFS3, but a gentleman named Chris File and some other enterprising folks have made it possible to make a gmax-designed model backwardly compatible with CFS2.
Schuftie and her sister are still FSDS models, though I am very likely to bring them into gmax at some point.  In the meantime, Mike Crosthwaite has helped breath some life into FSDS by allowing for animations not otherwise provided for by the venerable Aircraft Animator.  As a result of SDLEdit, these models now have rolling wheels, bouncing drag link suspension parts and two-plane, twist and fold landing gear.
To have differential timing of the gear and visible AI and multiplayer props and gear, a native CFS2 mdl model structure must be used.  It has been possible to do this with manual SCASM coding, but that approach isn't for me.
As I write this, Louis Sinclair may be as little as two to three months away from introducing FSDS 2.0.  This promises to offer the modeler native CFS2 mdl files with built-in animation coding.  If Louis is successful, then there will be one more FSDS version of this Kittyhawk as well as some other hawks that I have in the works.
I have written a tutorial on this subject of the Multi-Resolution Model so I will not go into any great detail here.  If you are interested, you can obtain the article on the Abacus web site at:
Look for the News section and then go to the FSDS 1.6b page.
If you would like the tutorial and the test application and test files that accompanied it, you may get the entire package at:
http://www.chapshq.com/aircraft/Mult-Res_PackInstall.EXE
The purpose of this feature is to allow the modeler to combine a highly detailed model with a number of successively simpler models.  The simpler models are displayed when the object appears progressively smaller.  You see the details in the up close view and you get great frame rates because most visible objects are smaller and utilize the simpler models.
So now we can have high detail and good frame rates as well!  
But high frame rates and good detail isn't everything, is it?
We would also like to enjoy greater functionality and even more "eye candy."
As I write this, Microsoft is contemplating the release of a second installment of the CFS2 SDK or Software Developers Kit.  In addition, a number of creative "third party" developers are working to unravel further mysteries of the new sections of the air files that contain the elements of the flight dynamics as well as the newer virtual model structure code contained within the MDL files.  And work is being done with the Damage Profiles as well.
As we know now, the second CFS2 SDK did not materialize.  Not generally known or appreciated as yet though, MS is now preparing to help the third-party designer community for the world of CFS3 by furnishing an aircraft SDK "in the box" with CFS3.  There is a much new technology in the next generation Combat Flight Simulator, so we will need all the help we can get.
And as if all this were not enough, some folks, most notably a fellow from Italy named Nibbio, are doing some fine work with the special effect "fx" files used in CFS2.  There's more startup smoke, more gun smoke, contrails, ships wakes, bow waves, oil slicks among other things.
Those of you who have not been around long enough to remember the early days following the initial release of CFS European Theater can not fully appreciate just how much can be done and is going to be done to enhance this Microsoft game we share by the freeware, shareware, payware and commercial developers in the months ahead of us.
And then what?  CFS3 of course!
Flashback!
So how did a texture artist and virtual aircraft tinkerer and package assembler come to produce a model such as Schuftie anyway?
This is the part of the article where you discover that your Aunt Gertie has locked you in the living room.  You may skip the next section and I shan't be offended because I shall never know!
Here we go!
Sometime in April of 2000, I was approached by Jorge Alsina to work on a freeware project with him at the invitation of the Microsoft SIMS team.  We were to be given alpha copies of the game.  He was going to write the new campaign and I was going to paint one or two aircraft.  This would be a couple of weeks work at the most, right?
Excuse me while laugh hysterically for a while!
HAHAHAHAHAHAHAHAHA!
We were going to select a project for which stock aircraft would be used and repainted.  Right?  
Wrong!  Microsoft asked that we do an RAAF campaign.  Jorge did a little preliminary research and came to the conclusion that such a task could not be undertaken without a Kittyhawk.  If we were to stick to the period of 1941 or 1942, that could only mean a Kittyhawk Ia or P-40E.  In fact, anything other than a USN campaign would require some variant of P-40.
"Hello Mr. Microsoft.  Just send us a P-40E and we will comply."  "We might just have a P-40 lying around for you guys.  Do some research and get started and we'll get back to you."
A few weeks later, it appears that any possible P-40 from Microsoft has evaporated and yet the requirement for an RAAF campaign remains!
Well . . .  ?
I did buy FSDS Pro as did Jorge - and Jorge did build a couple of models with AF99.  Secretly I had always wanted to build a model, but the learning curve held my ambition at bay.
Jorge and I discussed our options and we decided that we would pursue a plan "A" and a Plan "B."  I would begin what would become an incredibly complex and trying odyssey that would ultimately result in the Schuftie now on your hard disk drive.  But we would not risk the failure of this inexperienced modeler.  Jorge would simultaneously begin the construction of "Pistoff," A USAAF P-40E scratch-built with AF99 destined to be repainted as an RAAF aircraft, should I never complete my task.
At this point in the time-line, a number of highly detailed models have been produced with FSDS Pro for FS2000.  Among these are models of a Corsair and a P-47D by Roger Dial and a DC3/RD4 by Roy Chaffin  and Jan Visser.
Could I deliberately seek to build an aircraft that is less detailed than these beautiful-to-look-at aircraft that have come before?  Of course not!
I did not know it at the time, but I was destined for much pain and much joy and many "days" when I would come home from work early, sit down at the computer - and look up at the clock when I was too tired to work any longer to discover that it was about 03:30 local time.  I had a steady diet of this.  Progress was painfully slow.  If I knew I was destined to build a 16,400 polygon model and then to become horrified that the frame rates would be about 7 fps in CFS2, I am not sure that I would have continued.  But having gotten that far, a couple of months after commencing the project, how could I turn back?
For weeks, I struggled with simplifying the model, hoping that with each reduction of 500 polygons, that somehow I would get a magical increase in frame rate.  But there was to be no magic.  Nine (9) fps and then eleven (11) fps, but this was with only one aircraft flying.  Put three or four of these beasts in the air and the game would become Aunt Gertie's slide show!
Argghhhh!
Meanwhile, Jorge produced a very fine AF99 model of the Kittyhawk Ia to guard against the total failure that was appearing more and more likely.  To say that I had a number of sleepless nights over this would not be an exaggeration. We were running out of time to redo the model and we were running out of time for me to repaint the AF99 "Pistoff."  Thankfully the introduction of CFS2 was delayed and even more thankfully from my point of view, there were many other issues besides my trials and tribulations that would have prevented – and did actually prevent – the timely release of the project.
I had to scrap Schuftie and start over from scratch.  Meanwhile I told Jorge that I was reworking the original.  Very few points remained of the original aircraft by the time I arrived at the 5600 polygon final master model you see today.
Time to "cut to the chase."
I did build the model at least twice from scratch.  I do now think that it will never be necessary again to rebuild any new model or structures with all the experience gained.
This model has been rebuilt a number of times now since the release of the first version of IDoA-42.
If you are a would-be modeler reading this document, I have a few simple suggestions for you.  
Target about 4,000 to 4.500 polygons as your ultimate size.  Do not go above 6,000 polygons for any reason.  
How do you target in this manner?  Resist the temptation to develop a 32-sided fuselage.  Instead, try 18 to 22 sided structures.
Today I am quite happy that we did not release the project on time for it would have resulted in failure!
Two things occurred in the month of November that made a huge difference:
<![if !supportLists]>· <![endif]>Louis Sinclair figured out how to design a multi-resolution model or level-of-detail model capability into Design Studio Pro
<![if !supportLists]>· <![endif]>I read a SCASM tutorial written by Pentti Kurkinen and this inspired me to figure out how to design an active 3D virtual cockpit.
Meanwhile, Jorge figured out a number of workarounds in the Mission Builder and used the time to produce fourteen superb missions for our campaign.
And we succeeded in meeting most of the goals we set for ourselves eight long months ago.
The rest is, as they say, history!
Large structure improvements
1. Slight reshape of fuselage.
2. Separated leading edges of wing and horizontal stabilizer and applied smoothing.
3. Added working animated landing light assembly for the port wing.
4. Rebuilt canopy assembly, adjusting vertical height and reconstructed appearance to be virtually identical to "E" model canopy.
5. Adjusted fit and finish of mating surfaces of canopy and fixed support structures such that they are now air tight!
6. Widened the bullet-proof glass area, corrected flaws in the upper support to provide a realistic, smooth appearance from inside the VC.
7. Pilot seat redesigned and re-textured.
8. Improved and repositioned Pilot.
9. Long-wire antenna now visible in the master model only.
10. Improved "circularity" of the propeller disks.
11. Added detail and texturing to the landing gear structures, including hydraulic lines and lg. door detail.
12. Redesigned flap assembly and details, increasing fidelity to the original.
Cockpit Details
1. Extensive texture map reworking inside the virtual cockpit. Leather map case has been added, fixed and movable canopy surfaces previously untextured are now textured.
2. Canopy opening crank assembly redesigned and now animated to simulate opening the canopy with the crank handle.
3. The stick is now animated inside and outside to conform to aileron movement and suggestive of elevator movement.
4. From outside the aircraft, pilot's hand and arm assembly coordinated movement with the stick.
5. Animated goggles, parachute, May West and harness appearance.
6. Working rudder pedals installed. (Pilot head movement retained.)
7. Pilot's legs and feet have coordinated movement with rudder pedals.
8. Visual flap controls now function.
9. Visual landing gear controls now function.
10. Added non-functioning visual linkage between throttle quadrant (throttle-mixture-prop) and engine compartment as in the real thing.
11. Added a highly detailed sub-panel beneath the lower panels that represents the guns arming panel, windscreen defogger and engine primer controls.  Added labels.
12. Added visual (non-functioning) engine starter foot switch.
13. Redesigned DVC gauge display such that the gauges now function from outside the aircraft looking in as well as from within the DVC. No frame-rate reduction!
14. Developed and constructed new canopy internal-only structures to eliminate "keyhole effect" and "fat" or "larger-than-life" canopy detail appearance.
15. Animated reflector site assembly. Shroud appears and reflector bulb functions when engine is running only.
Animations other than cockpit - includes use of SDLEdit
1. Dual-plane twist and fold landing gear.
2. Rolling wheels.
3. Landing gear drag link simulated compression upon runway bounce.
The U.S. 52 Gallon Drop Tank is a joint effort of Bruce Thorson and Joe Amodea.  Joe produced the visual model and Bruce created the weapons library "bgl" files and damage profile.
Originally introduced as a standalone add-on in February of 2001, this weapons load-out object can be applied to other appropriate aircraft, once in your library.  If you have it installed already, you may over-write or skip the relevant section of the installation routine.
There is a highly detailed instruction "sheet" that may be opened with Notepad, entitled US_52_DT.txt located in the SCENEDB\weapons folder of your Combat Flight Simulator 2 installation.  Everything you need to know is contained in that one file.  Contact information for Bruce and Joe is contained there as well.
This second version was fully revamped taking the original release as a start point. Stall characteristics were mostly improved, as climb rate, take-off run, stability, balance, landing gear and scrape points etc..
Nell FD parameters were also corrected and generally improved. Now there are infrequent crashes between formation elements.
In the first version, Jorge designed the Flight Dynamics in the early phase of the project, taking as model the AF99 "Pistoff" P-40.
Later, it was adapted to Schuftie by adjusting appropriate scrape and landing gear points. The CFS2 air file was made "from scratch" using AirEd and taking in all the knowledge that was possible from the 714th Squadron flight dynamics forum
Three renowned flight dynamics experts participated in the first version, with advice and even contributing with some data sections, in different phases of the project. Ron Freimuth  helped with some early consultations.  Then at beta testing, Gregory Pierson participated - and finally Bruce Thorson, who was with Jorge at the post-beta part of the project, and to whom we owe thanks for a more realistic final version.
95% of the data entered in the flight dynamics file has been gathered from several technical sources, including America's Hundred Thousand and the Pilot Manual for the Curtiss P-40 Warhawk. Some other sources mentioned below in Bibliography have provided additional data for engine and aircraft.
Speed, climb rate, cruise values, stall, and other performance characteristics have been modeled with the P-40E performance charts values. What is very peculiar in the P-40E is the roll rate as it was the fastest roller of all American fighters.
However, turn performance has been slightly improved over the real P-40, to make play balance more suitable for CFS2 artificial intelligence.
While the flight dynamics may not please everyone, it has been carefully designed for play-balance within Combat Flight Simulator 2.
The 2D panel was designed by Jorge taking advantage of as many of the stock CFS2 gauges as possible. However, it was a requirement to make a few gauges to fit with the real instruments of the P-40E. One of these is the Airspeed Indicator that has a limit of 500 mph.
The second version has a more realistically adjusted instrument layout and a reflection gun sight image has been included. It is uncertain if the RAAF 75 P-40E at Port Moresby had reflection sights or a centered O-ring. Joe has modeled a very nice RG in the virtual cockpit.
The fuel selector has been changed to a more similar type of that used in the P-40E.
The panel is modeled after the most used version for the P-40E at that time - without any sun shield. It has all necessary gauges to fly the aircraft in an typical and realistic way.
Shift_2 will bring the aircraft controls to screen.
Joe using FS Design Studio Pro - designed for the first version, a virtual cockpit, a first in its class,  as far as we know. His tutorial has served as a training basis for many CFS2 modelers. The vcockpit is modeled according to the 2D panel and every one of the instruments is active. More discussion of the making of the vcockpit is presented in the "Schuftie and her Sister" section.
The virtual cockpit allows you to observe and enjoy detail of the cockpit interior, designed by Joe as part of the 3D model. In the second version the VC details have been highly improved.
Sounds have never been a goal in this project. The P-40 engine sound is aliased to the P-38, the only stock aircraft with an Allison engine similar to the V-1710-39 used by the P-40E. In our opinion the stock sound is fully satisfactory.
Flying the P-40E in "Free Flight"
The P-40E appears in the Free Flight aircraft roster as Kittyhawk Ia Schuftie or Kittyhawk Ia RAAF, The first is painted after the renowned RAAF 75th Sqn "Schuftie". The second is the generic one with only the basic roundels and tail flag. Both aircraft have the same flight dynamics and damage profiles.
<![if !supportLists]>Ø <![endif]>To simultaneously open the canopy and the cowl flaps, use the spoiler key or the "/" for the CFS1 style keyboard.
Tips for flying the P-40
These are some tips and figures to fly the P-40 in a correct way. All speeds are indicated (IAS):
<![if !supportLists]>¨ <![endif]>To taxi the P-40 do it at 20 mph or less. Do not turn fast as you could invert the aircraft.
<![if !supportLists]>¨ <![endif]> Do not apply wheel brakes for a long period at high ground speed, because you may nose overturn it. Do it gently or at low speed.
<![if !supportLists]>¨ <![endif]>To take off, you may set one notch of flaps or take off without flaps. Set parking brakes, full throttle, release brakes and then start your run. The aircraft will pull to the left because of the torque (you may trim the rudder somewhat before starting). It will accelerate and will lift its tail. At about 100 mph pull the stick gently. If you carry an extra payload as a belly tank or a 500-lbs. bomb, your take off run will be somewhat longer.  Then you should pull up at about 110-120 mph.
<![if !supportLists]>¨ <![endif]>Upon take off, raise your landing gear at about 500 ft high and then set flaps up. Establish an angle of climb for a speed of about 145-150 mph and climb to cruise altitude.  At military power (in war zone) adjust your RPM to 3000 and your MP at about 45" (full power). If your climb is long, you may lower the rpm to 2600 and proceed at 38" MP with a speed of about 135 mph. An economical climb rate will be at 2300 rpm and 28" MP at about 130 mph. An initial climb rate of about 2,100 fps is considered normal.
<![if !supportLists]>¨ <![endif]>At cruise altitude, level off, reduce RPM to 2600 rpm and MP to 38.5", if you are flying at max continuous power conditions.
 For a longer range fly between 1800 and 2300 rpm and 26-34" MP.
<![if !supportLists]>¨ <![endif]>To descend for an approach to the airfield, lower throttle and reduce speed. When about 160-170 mph lower landing gear. When below 140 mph set flaps to 50 % (2 notches). Maintain speed above 100 mph IAS.  Before landing apply two more notches of flaps (full), maintain speed at about 100 mph IAS, touchdown at about 90 mph IAS.  Watch the speed as if it goes too low or you may stall and fall like a rock.  Three wheel landing is very easy with the P-40.
<![if !supportLists]>¨ <![endif]>When on landing run, while reducing speed, set flaps up and when at about 50 mph, apply wheel brakes very gently and in short intervals, until you get below 20 mph to taxi. Do not make fast turns while landing or taxiing. Turn slowly and with a long radius curves, at or below 20 mph. Taxi to your park site, stop, apply parking wheel brakes and shut down the engine.
No, we are not talking about a geopolitical discussion or disagreement!  But we are about to discuss the kind of issue that does crop up from time to time when attempting to reconstruct events that took place at an earlier time.
RAAF insignia roundels as of March of 1942!
As far as we were able to determine during our research, the aircraft of the RAAF displayed the roundels of the RAF right on through early 1942 at least.  Though the RAF roundels of the period had yellow circles around the blue, the RAAF hastily had painted these out upon arrival in "Oz."
During the marketing period for the project, our "advertisement" of the paintwork for Schuftie brought in some much appreciated comment, but also some questions about the red centers in the roundels?
One of these comments came from a fellow named "Yakkalot" and another came from an ex-RAAF 3 and 77 Squadrons pilot named Sean Trestrail.  Both gentlemen are from Australia.
This kind of "local" enthusiasm and information cannot be over-appreciated.  Anyone who has ever done any kind of research must experience joy when contacted by folks who share new or yet undiscovered sources of information.
The only photographs we had found of 75 and 76 Squadron aircraft showed a hybrid arrangement.  The roundels on the fuselage had the red centers as did the roundels on the bottom of the wings.  The roundels on the upper surfaces of the wings were painted with white centers.
However, there are no photographs of the Kittyhawks taken, as far as we knew, prior to May of 1942.
So did the upper surfaces of the wings have the red centers or did they not?  We still do not know for certain.
We had photos taken in Townsville, Australia where the aircraft were stationed prior to posting to Port Moresby and after their return, before to heading back out to Milne Bay if indeed they ever went there alongside the new Kittyhawk IV (P-40N) aircraft.
We know that the order to paint out the red centers did not originate prior to new orders for all RAAF front line aircraft as set out in Aircraft General Instruction No C 11 Issue 4 of 31st July 1942. The changes were made at Milne Bay during August of 1942.  And even then, we are speaking about front-line aircraft and only the upper wing roundels.  The lower roundels and the fuselage roundels were to remain painted red at least until the end of 1942.
Well . . .
That should end the controversy, right?  Red centers must be on the upper roundels through July at least and not before the action of Milne Bay.
But then, how does one explain the photographs taken at Townsville that show the upper roundels painted white?  One such photo is caption May of '42?
Thanks to some sleuthing on the part of Sean Trestrail, we now have photos to look at that are captioned as September of '42 showing the hybrid markings.  We also have a colour plate of Schuftie showing the upper roundels with white centers.  This plate is from:
The P40 Kittyhawk in service by Geoffrey Pentland, published by Kookaburra.
ISBN 0 85880 012 8
Library of Congress catalogue card No 74 83248.
A bit more information from Sean.  An excerpt from part 2 of the July order:
<![if !vml]>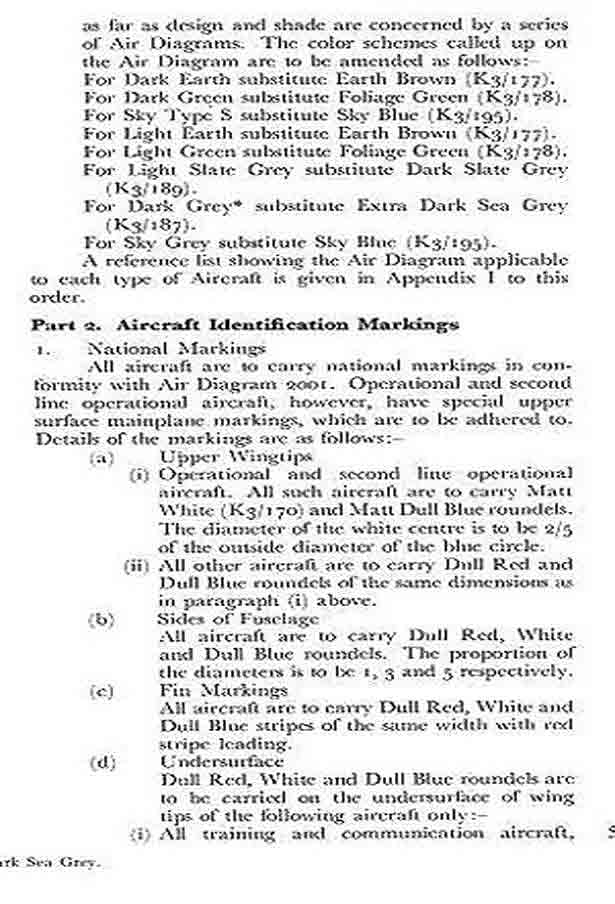 <![endif]>
Geoffrey Pentland is respected for his research.
So this really settles it then!  Schuftie should have upper roundels with white centers?
Well . . .
Not exactly!
You see, gentle reader, Schuftie survived Port Moresby and may have been painted a number of times afterward.
As of this moment, it seems more likely that Schuftie had red centers on the wing roundels as of march and April of 1942.
But then again   .   .   .
Does anyone know whether it is proper to break an egg by first cracking it on the little end or is it correct to break it on the big end?
I believe Jonathan Swift had an opinion on this!
Early in this project, Jorge designed a Mitsubishi G3M2 "Nell." This aircraft was the "mother" of the better-known Betty.  It is odd that this popular bomber was never modeled before even for other Flight Simulator products.
The Nell is mostly known for the torpedo attack and sinking of the Royal Navy battle cruisers Prince of Wales and Repulse  off the coast of Malaya - without any kind of allied aircraft opposition. However this aircraft was also well known for bombing in China, Burma, Philippines, Dutch Indies, and later in New Guinea and Guadalcanal.
The aircraft was designed using FSDS in low-level detail, with just about 1000 polygons and without any cockpit detail.  Four LOD, or level-of-detail models were merged for frame rate improvement.
The Damage profile includes a choice without bombs, one with 3 x 250 Kg bombs (max. standard payload was 800 Kgs.) and the third with a torpedo. This last version is not used in the present campaign.
The included Nell is not enabled as a player aircraft, but rather, for use by the sim's AI. It's up to the user if he wants to convert it in a flyable aircraft, but the detail is so low that it is unacceptable for this purpose, as there is no cockpit interior or transparent surfaces and the panel is not available.
However, the flight dynamics while is not perfect, is quite suitable for this kind of bomber and the speeds and other flight variables are set to the authentic values.
Version 2 has entirely modified the Nell flight dynamics, to correct many errors that were left in the previous release. The damage profile has also been modified to show a less efficient shooting by the Japanese.
The version 2 has also an optional Damage Profile to replace the Betty default DP. It was tweaked, to make it less fire-accurate.
Country.cfg is a file that CFS2 and the Mission Builder read to know what allegiances or nationalities are available for the simulator.
The stock country.cfg came with only four nationalities programmed: British, German, American and Japanese. However this is a relatively crucial file because of the potential danger produced if commercial companies, freeware and shareware individuals started to upload new versions of files without any concert or uniformity.
However, in an effort to avoid this potential situation, a new country.cfg was recently released by Microsoft in one of the CFS2 SDK. Jorge contributed with the design and inclusion of the new allegiances jointly with Microsoft for the release of this new more complete country.cfg
This version 2 package includes this new SDK country.cfg that will automatically replace the stock version.  In addition, a couple details have been corrected and there is all the necessary code to drive the required images, medals and awards and troop ranks information to make the campaign a truly Australian one, under the #10 allegiance code.
During the installation, your country.cfg will be renamed and a new one will be installed.
In the INFO directory of CFS2 hides a small text file called airbases.dat.  This file is used primarily for missions and campaigns.  Within this file should be the Latitude and Longitude as well as altitude above sea-level and heading information for starting positions used in missions and campaigns created with Mission Builder.  In addition, it has AI landing approach information. 
If this data were to be missing and you hit the "I" for information map function within a mission, you would likely get a Crash-to-the-desktop.  Although the New Guinea scenery is not used or required for "In Defence of Australia – 1942" version 2.0, the airbases.dat file has been appended for you and is "mission ready" for future use.
The Missions and the Campaign screens
Jorge Alsina designed fourteen missions for the RAAF campaign and fourteen for the Japanese reversed campaign, to be played chronologically, starting on March 19, 1942 and ending on May 3rd.
The briefing and advanced screens of each RAAF mission tell the story of the saga of the 75 Sqn. during those two critical months. The struggle for surviving, the first days of superiority and the last days of attrition, caused by a more experimented Tainan Wing, with aces like Sakai, Honda, Ota, Ishizawa etc. It is the Saga of RAAF 75 defending the skies of Port Moresby, the door to their own country invasion, in the days before the battle for Coral Sea. It is also the strong push of the Japanese trying to soften Port Moresby in preparation for an invasion by sea.
In the Japanese missions a fictitious Ace named Kimura is the hero of the campaign. Lt. Kimura deploys at Lae a little after this town is invaded and commissioned as a forward airfield, and defends Lae from the RAAF 75 and the American bomber squadrons . He also escorts Rabaul bombers to bomb Port Moresby installations. When the Tainan Wing arrives to Lae, he is "absorbed" by the Wing and converts in one of the flight commanders, until the end of the campaign when he is called to Japan for carrier training operations.
The mission briefing tells the player which is his/her goal and hints at how to end the mission.
The installation program permits you to place the fourteen missions of each campaign in both the Campaign and the Missions folders. We suggest that you play them as a Campaign. In CFS2 you should select the Campaigns tab, choose the Australian or Japanese nationality and proceed accordingly to the CFS2 manual for playing a campaign.
In the RAAF campaign and single missions, you will watch the different intro screens according to Australian motifs, you will win medals and other awards for your accomplishments and you will also be promoted to higher ranks as you progress through the different missions by obtaining the required goal (s). The Defence of Australia campaign starts with you as a Flight Sergeant. Due to the short nature of the campaign it's unlikely you will become a Squadron Leader, but it is possible.
RAAF missions for DoA version 2 have been renamed to establish a sequence for single Mission playing and slightly modified, with corrections in the bomber behavior, some tricks to overcome buggy AI behavior and some other bugs left out in the first version. Japanese missions are new from scratch, by using the same historical facts of the RAAF 75 missions, but seen from the Japanese side, except two missions that were replaced by two new ones.
The Australian campaign images, medals and promotions are universal and totally valid for other custom campaigns. These files only, that install in the UIRES folder of CFS2 are included as Public Domain. See the copyright terms for a more clear explanation.
The Japanese campaign and Single Missions follow the default screens, motifs, medals and awards.
If you want to play the missions from the Single Missions tab, you may do so. This is the chronological list of missions and the order within which they should be played:
Royal Australian Air Force
RAAF01--75th defends New Guinea
RAAF02--"Tomorrowhawks" raid Lae
RAAF03--Japanese retaliation
RAAF04--75th Sqn timely intercept
RAAF05--US Army A-24 escort to Lae
RAAF06--B-25 escort to Salamaua
RAAF07--Lt John Jackson shot down
RAAF08--75th victorious dogfight
RAAF09--Defending Port Moresby
RAAF10--Les Jackson surprise kill
RAAF11--Old Jackson rescued
RAAF12--Irremediable attrition
RAAF13--John Jackson death
RAAF14--75th Sqn last mission
Japan Navy Air Force
IJNA101_What are those fighters coming from?
IJNA102_Japanese retaliation
IJNA103_Offering a Samurai's life
IJNA104_Carrier bombers?
IJNA105_Defending Salamaua
IJNA106_The Tainan Wing
IJNA107_Difficult morning over Lae
IJNA108_Samurais from above
IJNA109_A routine patrol over enemy territory
IJNA110_Deep Fighter Sweep
IJNA111_Softening mission
IJNA112_Above the clouds
IJNA113_Fire rain from the skies
IJNA114_American fighter squadrons in New Guinea
The missions order does not correspond with the difficulty of play, but the chronology of the campaign history.
The Scenery – New Guinea Aerodromes
Version Nr. 2 has been released with extra scenery, which is not required for the campaign or mission playing. The scenery includes nine airfields with twelve runways in Port Moresby (5), Rorona (1), Dobodura (2) and Buna (1).
The scenery represents the airfields available to the Allies about the beginning of 1943. In Port Moresby there are Durand, Schwimmer, Berry, Ward, Jackson and Kila. About thirty miles west there is Rorona. In the north coast near Buna we have, a second runway at Buna (or New Strip as it was called by the Allies), a Dobodura partial complex with Horanda, Kalamazoo (steel plank runway) and Girua (two small runways). Dobodura was expanded later during 1943.
Use the following maps as a reference:
Port Moresby area
<![if !vml]>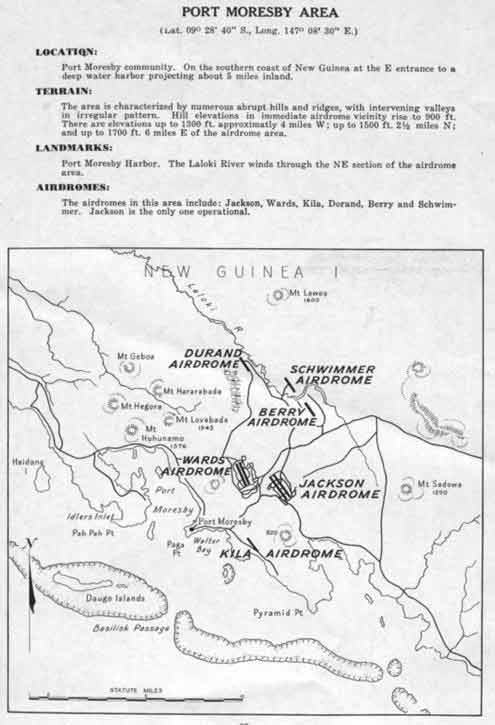 <![endif]>
<![if !vml]>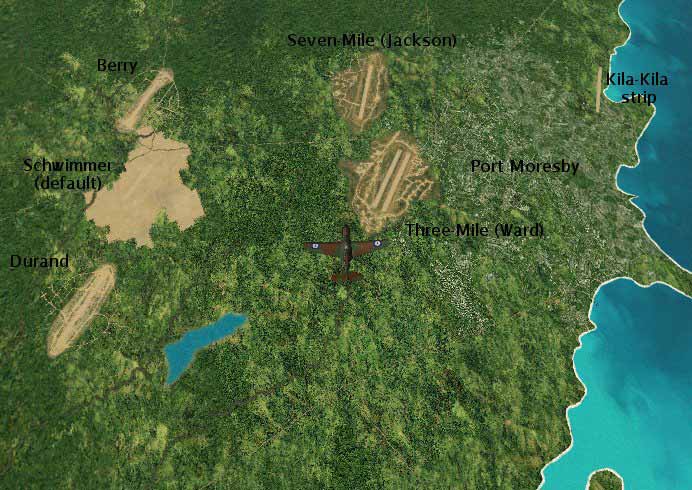 <![endif]>
Dobodura area
<![if !vml]>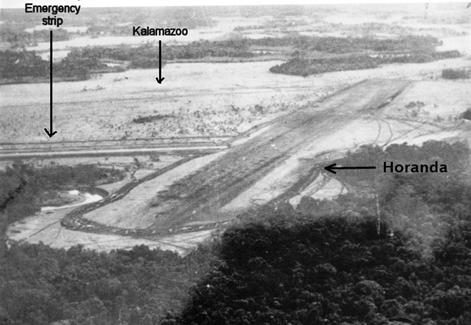 <![endif]>
<![if !vml]>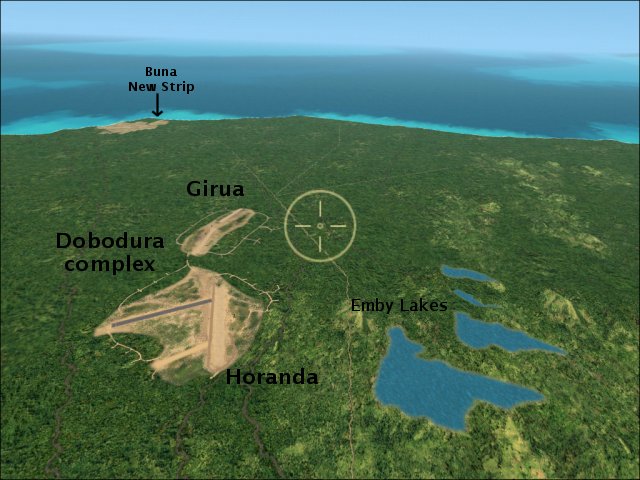 <![endif]>
In between the two release versions, the authors found relevant information showing that the default Port Moresby airfield is not in the correct Seven_Mile (or Jackson) position but mostly closer to Schwimmer, a later built airfield. Second version keeps using the default airfield as if it were Jackson field (Seven-Mile).
The Dobodura-Horanda airfield has two runways, Horanda a very wide strip, which allowed four aircraft  take-off side to side and Kalamazoo a steel mesh strip. There is a third emergency runway (south of Kalamazoo), but which is only painted in the texture (not a real CFS2 runway).
The new airfields have all Damage repair and fueling capability, suitable for Multiplayer games. In Free flight, all airfield entries may be searched by either Port Moresby, Dobodura or Buna.
To install the new scenery, the installation program will backup your current scenery.cfg and airbases.dat files and append new information in both files. In case you wish to remove later the scenery from your CFS2, go to the Settings, then to Scenery Library and disable (remove the check) in front of the DoA2 Scenery Area.
A Lot to Fight for  The Memoirs of John F. Jackson
During the last year we have had different experiences related with the first In Defence of Australia 1942 release. One of the most gratifying events was discovering that Squadron leader John Jackson, actually left a family behind, including two children, Patricia M. and Arthur J. Jackson, who worked together to gather and publish "Old John "Jackson's memoirs.
Last January, Michael Jackson, J. F. Jackson's grandson left a note in the guests' book at our Chaps site (www.chapshq.com). That was followed by an extensive e-mail exchange that let us know of a book written by Patricia and Arthur, that was written relating the memories of John Jackson, written with his own hand in letters to his family, notes an detailed diaries.
"Old John" was detached in North Africa and Middle East before being called to defend his own country. The book deals mostly about his campaign in North Africa and flying Gloster Gladiators, Hurricanes and Tomahawks for a total of six aircraft shot down. Only the last chapter talks about his endeavor at Port Moresby as Royal Australian Air Force 75 squadron, defending the area against the Japanese, which ended in his glorious death. John shows also in these letters how much he loved his wife and children and his kindness and gentleman class.
This is a very interesting book for those that want to go deep in WWII North Africa battle stories as well as the history of RAAF 75. The book can only be purchased directly to the Jackson's, via postal mail. For more information check their web site link:
http://members.optusnet.com.au/~mikejjack/al2f4/index.html
List of known issues remaining
1.  In mission #2, wingmen do not strafe ground targets. It seems to be a CFS2 anomaly (as we have tested this issue with the stock aircraft). You may however change your tactical display to Ground, select a target and order to attack it (Shift 7 once or twice). This will make some of your wingmen to attack with guns.  After the attack pass, press Shift 0 "to recover your wingmen" and repeat the process as many times as you need.
2.  In a few missions, AI flights could bug out of the combat area once they have ended their mission, but mostly in the wrong non-programmed direction. This issue doesn't seem to produce problems with goals and you may or may not see that flight again after warping to the following waypoint. This problem has been corrected slightly in version 2  by changing the approach direction of the flights.
3.  Landing gear and propeller disk are missing in the AI aircraft, due to a CFS2 compatibility issue concerning third-party aircraft and animated parts.   This could finally be corrected later with the advent of FSDS version 2.0 this summer.
4.  If you slew the aircraft fast, you may loose visual on all animated parts, due to a quirk in CFS2. Be sure to stop the slewing movement before coming out of slew.
At this time, as alluded to above, there are Microsoft sim enthusiasts and independent freeware developers hard at work to add features and functionality to this wonderful pastime of ours.
Back in early 2000, Microsoft allowed Joe and Jorge to test its own version of an MDL converter tool.  This tool enables third-party aircraft to carry and drop ordinance and auxiliary fuel tanks as well as some additional benefit that will be left unsaid here.  We know that Microsoft intends to make this tool generally available in an upcoming SDK release. One benefit of this tool is that when parts of the aircraft sustain damage, the entire aircraft does not re-spawn.  For this reason, we have applied this tool to our models.
In any case, special appreciation should also be expressed to Bill Potvin II who consistently rises to the challenge on his own to help bring tools and understanding to the flight simulator developer.  He too, recently introduced an MDL patch tool MDLPATCHW.  Thank you, Bill.
Bill's site:
And thank you to the Microsoft Simulator development team!
Wait a minute!  O.K. so there won't be any folding wings on the Kittyhawk!
A few important words about CFS2 settings . . .
As you will learn later on, we did have a beta test team at work for a few weeks helping us iron out the bugs.  One of the experienced fellows who also knows the work of JamCraft, asked me whether I was going to add some detail to the textures!  My reaction was:  "Huh???"  Then he went on to say that it was a shame I didn't add a few rivets like I usually do.  Now that was a clue!  I had put on somewhere around 1500 rivets – all applied by hand and consisting of from two to five pixels each.
There had to be some sort of problem?
It was the same problem I had when I got an early CFS2 beta and discovered that the detail of the Microsoft models wasn't nearly as good as their alpha version!
The problem was "cockpit error!"
The experienced person and I did not realize that Microsoft default graphics selections prevent most of the detail from being seen.  So if you have at least a P III 133 computer or better, and at least a 16 Meg video card and 64 Meg of RAM, I suggest that you do the following:
1.  Go to "Settings."
2.  Then go to "Advanced Settings"
3.  Put check boxes in the following places:
Trilinear filtering
MIP Mapping
Anti-alias
T & L
4.  Then go to Image Quality and make sure that Maximum Object Texture Size is set for at least 512.
Make sure Detail Texturing is turned on.
5.  The remaining sections can be left in the middle positions and the aircraft shadow can be turned off if your frame rates suffer.  The shadows do eat up frame rate.
If you find that these settings rob you of your frame rates, you may turn of the T&L and the Anti-alias first and you will still get good detail.
You will definitely need the 512 setting on the Maximum Object Texture Size to see the details in the paintwork.
Users or distributors cannot ask for payment in any form, for the package or freeware elements of the campaign "In Defence of Australia."
The original project was nearly 9 months in the making originally, with additional months working on and off on this upgrade and although it is planned that it shall be distributed as freeware, the authors reserve the right to utilize any portion of the work for commercial purposes in the future.  All rights reserved.
All elements of this package are freeware except the following distributed files that are all public domain:
- country.cfg
- All image files installed in the UIRES folder of CFS2 and which names are indicated in the Australian allegiance section of the enclosed country.cfg, which are not part of Microsoft stock files (subject to their own copyright terms).
The freeware elements are subject to following copyright terms:
The following parts are copyright J. P. Amodea  ©2000-2002:
- The model Kittyhawk Ia Schuftie and the generic model Kittyhawk Ia RAAF, including the textures and virtual cockpit.
 - The U.S. 52 Gallon Drop Tank is copyright Bruce Thorson and J. P. Amodea
The following parts are copyright Jorge Alsina  ©2000-2001:
- The P-40E Panel and P-40E cluster gauge
- All P-40E flight dynamics files
- The entire AI G3M2 NELL aircraft container, including the model, flight dynamics and damage profile
- The 28 missions and  campaign
- The New Guinea airfields – nine historical locations in all.
 - The Papua - New Guinea war zone map is borrowed from Lionel Smith and is copyright by Lionel Smith ©2000 -2001.
Combat Flight Simulator 2® and all the files content are also copyright by Microsoft®. Therefore, the files are also subject to the Microsoft copyrights as they are proprietary of the original file formats.
This product, whether in beta form or final form, may not be transferred to CD-ROM or any temporary or permanent media (diskette, ZIP diskette, tape, video, etc. without written permission of the authors.
 The package or any part of it, may not form part at any time, of any free media, distributed as part of a commercial, shareware or any other non-free type of product  as a book, a magazine, a video or other type of media, without the written permission of their authors.
The package, or any portion thereof, may not be uploaded to any site or redistributed without the written permission of the authors.
Finally, this package must remain intact as it is currently distributed.
The included files have been extensively tested and the installation process has been tested and both have been determined not to be harmful. However, the authors are not responsible for any direct, consequential or indirect damage these files or the installation process may cause to you, third parties or to any property, equipment or software.
The authors of this package assume no liability of any kind for the usage of this package.  Use entirely at your own risk.
Installation Notes – Please Read!
This package was prepared using WISE Solutions Installation System 9 Professional.
Installation Notes . . .
If you installed the prior version 1.0a "In Defense of Australia - 1942" and you did not remove it before installing the present version, you should encounter no problems.  If you ever remove version 2.0, you may have some vestigial files from the first version left behind, otherwise the removal will be "clean" and with a clean Registry.
The following files were changed, but backed up:
In your Combat Flight Simulator 2 root directory . . .
country.cfg has been replaced to accommodate third-party UIRES Nationality screens.  Your previous country.cfg file was saved as country_cfg.IDA42v2.
MDLnames.txt has been opened and a line of text has been inserted to accommodate the U.S. 52 Gallon Drop Tank indexed description.  Your previous MDLnames.txt file was saved as MDLnames_txt.IDA42v2.
scenery.cfg has been opened and several lines of text have been inserted after your last scenery layer to automatically activate the scenery.  Your previous scenery.cfg file was saved as scenery_cfg.IDA42v2.
In the INFO directory . . .
airbases.dat has been opened and many lines of text have been inserted after your last airbase entry so that mission designers may use the new genuine New Guinea airfields without causing a crash-to-the-desktop.  Your previous airbases.dat was saved as airbases_dat.IDA42v2.
For the Microsoft stock G4M2 Betty bomber . . .
If you accepted the new Damage Profile, your g4m2_betty.dp file was saved as g4m2_betty_orig.dp.
Concerning your sound folder . . .
We've installed the wind buffeting noise file called rumblp.wav, even if you decided not to use it.
If you ever decide to remove this CFS2 RAAF Expansion package V.2.0 . . .
Using the Windows Add/Remove programs facility, you may remove this product or perform a rollback at any time.
The Uninstaller shall remove the three new aircraft and all associated components, the scenery files, the UIRES screens and all the mission and campaign files and all associated text files and logs.
Left behind will be all the components of the 52 Gallon Drop Tank as well as the P-40E cluster gauge set and the scenery.cfg and country.cfg files.  We have assumed these items could still be in use outside this expansion package.
A text file copy of this information has been placed in the IDoA-42v2 folder in the ADDONS directory of your Combat Flight Simulator 2 root directory.  The IDoA-42v2 folder also contains the Uninstaller application and the required log file.  The log file describes the actions taken by this package and is useful for debugging.
Isn't Waltzing Matilda the National Anthem of Australia?
No it isn't, but many Australians think it should be.  From an outsider's perspective, it is the quintessential musical piece that identifies most closely with the rugged individualism associated with that country.
Here are a few sites to look for information about the song, lyrics by Sydney solicitor "Banjo" Paterson in 1885, original music by Christina MacPherson:
Andrew Barton "Banjo" Paterson
Lilting Waltzing Matilda and more background
But if you are only going to visit one page, visit this one of Roger Clarke, where controversy is discussed!  I warn you now though, don't go visiting this site unless you've got hours to spare!
Roger Clarke's Waltzing Matilda Page
Is it possible to use the work here as a basis for any new work?
Jorge and I have toiled for about nine months on this project.  Perhaps the gestation period for the whale or the elephant is longer, but not by much!
The answer is going to be a conditional yes!
No work contained herein can be re-used without specific written permission of the authors, however, it is our intention to share the fruits of our labor upon any reasonable request, but with conditions attached.  We will require knowing in advance something of your ultimate intention and we will want the work to be associated with a serious approach to ensure reasonable quality of the end result.
Part of "the conditions" will be to include the copyright text we supply and we will strictly prohibit distribution via any permanent media and further restrict use for a commercial endeavor accept under contract from the original authors.
Bottom line.  Please feel encouraged to make a specific written request and permission may be granted on a case-by-case basis.
Jorge and Joe have functioned as a well-oiled machine here – or perhaps as a worn-out machine may be more accurate!
We each have our own preferences, but I think it highly likely that we will work together again as a team either for further freeware project or very likely a commercial enterprise.
Specifically related to this project, Joe has intentions of repainting "Schuftie" as one or more USAAF versions.  In fact I have six stored away for a new potential project as well as various partially completed models for the P-40K-5,  P-40L, P-40M,  and the P-40N-20.
Will we fly again together out of the jungles of New Guinea?  That would be telling!  Will we fly out of the desert?  Perhaps.  Will we fly alongside other Allied forces against existing and newer adversaries?
We intend to keep you posted through use of the forums where we participate.
Joe may be found at the JamCraft forum at The Chaps Virtual Squadron
Our associates at the Chaps were kind enough to host the beta tester's forum discussed below.
Jorge and Joe each tend to make fairly frequent visits to these fine places known for their wide appeal as Combat Flight Simulator sites:
It ought to go without repeating, that all of the links mentioned earlier in the document have been used in some fashion or other.  You have a good few hours of pleasure in store should you work your way through the links.
For historical background related with RAAF 75th Squadron, see the Internet links.
For historical background concerning the entire Pacific war, a good source is:
War in the Pacific – Pearl Harbor to Tokyo Bay edited by Bernard C. Nalty, Technical Advisor Russ A. Pritchard
Perhaps the best source of technical information about U.S. manufactured aircraft:
America's Hundred-Thousand – U.S. Production Fighters of World War Two by Francis H. Dean
The best sources of technical information about the P-40 and G3M2 "Nell", used for this project:
COCKPIT - An Illustrated History of World War II Aircraft Interiors – by Donald Nijboer
Jane's Fighting Aircraft of World War II – Crescent Books
Mitsubishi /Nakajima G3M1/2/3 96 RIKKO In Japanese Naval Air Service by Richard M. Bueschel
P-40 Warhawk – by Frederick A. Johnsen
Pilot's Manual for the Curtiss P-40 Warhawk – Aviation Publications
The Mitsubishi G3M "Nell" – Profile Publications #160
The Rand McNally Encyclopedia of Military Aircraft – The National Historical Society
Walk Around P-40 Warhawk – Squadron/Signal Publications Walk Around Number 8 by Lou Drendel
Other excellent sources include:
Air Command – Fighters and Bombers of World War II by Jeffrey L. Ethell
Fighters of World War II – MetroBooks
Fighting Aircraft of World War II by Bill Gunston
Flying Legends – A photographic study of the great piston combat aircraft of WWII by John M. Dibbs
God is my Copilot – by Col. Robert L. Scott
P-40 Warhawk in World War II Color by Jeffrey L. Ethell
Pacific War Atlas 1941-1945 by David Smurchwaite
Samurai – by Saburo Sakai -Bantam Books
The Japanese War Machine edited by S.L. Mayer
The Ragged Rugged Warriors – by Martin Caidin -Bantam Books
The Rising Sun – by John Toland -Bantam Books
War Eagles in Original Color by Jeffrey L. Ethell and Warren M. Bodie
WWII Pacific War Eagles – China/Pacific Aerial Conflict in Original Color by Jeffrey L. Ethell and Warren M. Bodie
Zero! – by Martin Caidin Ballantine Books
A Very Special Acknowledgement!
Prior to release of this project, Jorge and I invited a number of CFS enthusiasts to beta test the package.  The response was remarkable and the level of dedicated and thoughtful input was very much appreciated.  The resultant project was further refined and our sincere thanks goes to:
[Listed alphabetically by surname]
Konrad Aigner [CH_Maxemily] - Reg and Ed Allen [Duxford Legends] - Doug Attrell [Simviation] - Michael Brookshire [Franz von Baron] - Jeff Dirksen [CH_Barrel] - David Harrison [CH_Sgt_Zacc] - Marv Howell [GZR_Sactargets] - Murray Jones [SW_MoJo] - Tom Neveil [Wrangler] - George Nuse [CH_T6] - Greg Pierson [714th Virtual Flight Test Sqn.] - Rob Robyn [CH_Kingswood] - Hugh Shoults [GZR_Ranger] - Lionel Smith [CH_CptSmithers] -  John Tami [JETNinja] and Bruce Thorson.
Thanks again Sean Trestrail for all the help with RAAF insignia, rank and commendation medals.
A special thank you to Pentti Kurkinen for sharing his discoveries that led to our being able to develop a virtual cockpit.  
Our appreciation as well to Louis Sinclair who ceaselessly labors to make Flight Simulator Design Studio Pro the best development tool it can be.  
And a big "Thank You" to Rob Brown of the Microsoft SIMS development team who got us into this "mess" in the first place! – Rob helped us very early on and throughout with technical information - and he encouraged us often along the way!
A "special mention" to Tom MacDowell and his team of testers from Microsoft, for providing very detailed input on the mission testing, during the pre-release phase of the project.
And we also don't want to forget Ron Freimuth for his early consultation on the P-40 flight dynamics.
To Stefan Schroeder who created TCD FS View, we express our appreciation.  This little applet allows the virtual model to be seen "full size" in the preview screen and also causes the aircraft to appear the same size as the stock aircraft when the game first opens.  Stefan's website is located at:
And a big thank you to Flightsim who awarded the Developer's Award golden prize to the first version of In Defence of Australia 1942.
And yet another big thank you to Paul Hauschildt, a.k.a. "PCH," who provided invaluable assistance to Joe in preparation of the WISE installation script and most especially in the area of editing the "ini" files as country.cfg and airbases.dat. Thanks Paul!
Enjoy!
Joe Amodea
New York, U.S.A.
Jorge Alsina
Caracas, Venezuela
April 2002